A Framework for Smarter Manufacturing
MESA is proud to release the first artifact of the new MESA Model: A Framework for Smarter Manufacturing. Historically, MESA models have been used by practitioners, academia, and others in the industry to categorize and define what happens in a manufacturing or production enterprise. MESA has released several models over the years, and all have been referenced in a wide variety of works, ranging from textbooks to proposal requests and architecture descriptions. This newest MESA model intends to help define the current and future landscape of Smart Manufacturing and production. It considers concepts that have been a part of manufacturing and production forever, but dives deeply into how these concepts are made "smart" by integrating related functions and incorporating new or advanced technology.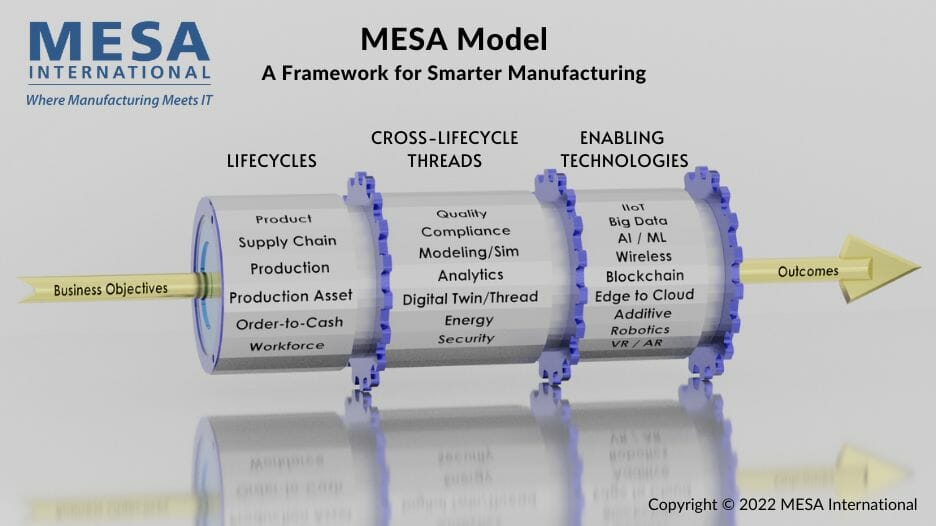 The MESA Model: A Framework for Smarter Manufacturing integrates three related concepts. The first concept is the Lifecycle. The steps in the Lifecycles establish the scope, stakeholders, and their perspective on Smart Manufacturing. Lifecycles represent business processes and value streams required in manufacturing that need to be optimized. Smart Manufacturing strives to increase connectivity and transparency across all dimensions of the enterprise, impacting all Lifecycles.
We've considered several Lifecycles for the model, as listed below.
Lifecycles:
Production
Production Asset
Product
Supply Chain
Workforce
Order-to-Cash
These Lifecycles apply to all manufacturing and production enterprises, though they might vary in application across different industries or across enterprises with different levels of maturity. Various written works are being developed to accompany the graphical representation, and in these works, each Lifecycle is explored in depth. The common functions in each Lifecycle are defined, along with industry-specific variations. The main focus of these works is to define what can make each of the Lifecycles "smart".
Any manufacturing or production environment involves multiple interwoven processes. Some of those processes span across Lifecycles. For that reason, the model also explores a set of Cross-Lifecycle Threads, as listed below:
Cross-Lifecycle Threads:
Quality
Compliance
Energy
Analytics
Security
Digital Twin / Thread
Modeling / Simulation
The Cross-Lifecycle Threads help link together functions between different Lifecycles to achieve specific goals such as prescribed quality levels, regulatory compliance, or energy reduction. Certain Cross-Lifecycle Threads have wide-ranging goals, such as Analytics, Security, etc. Ultimately, they ensure that the Lifecycles operate cohesively rather than independently. These Cross-Lifecycle Threads are also described in upcoming written works.
Smart Manufacturing and production is often enabled by modern technology. The new MESA Model also takes these enabling technologies into consideration. The following technologies are described in the model:
Enabling Technologies:
IIoT
Big Data
AI / ML
VR / AR
Edge to Cloud
Blockchain
Additive
Robotics
Wireless
The graphic shown illustrates the Lifecycles, Cross-Lifecycle Threads, and Enabling Technologies as three separate reels. The graphic above is static, but it is really meant to be dynamic. By aligning one or more Lifecycles with a specific Cross-Lifecycle thread and Enabling Technologies, a specific desired business outcome can be achieved. As MESA continues the development of additional works describing the model, there will be other static versions of the graphic to illustrate specific combinations and outcomes. MESA also intends to release an interactive version of the model which will allow you to "dial up" a specific combination or find the right combination to achieve a specific result. We may also include additional items in the model going forward. Much of this work is still in progress, so if you are interested in contributing, please get involved by joining as a member and signing up for the MESA Model Sub-Committee. Sponsorship opportunities are also available.
#39: MESA Model Evolution
This paper describes the evolution of the MESA Model from the MESA Functions originally developed and published in 1992 to the Context Model of 1996, the Collaborative Model of 2002 and the Strategic Initiatives Model developed in 2008.
MESA Model Framework for Smart Manufacturing
What benefits does the new MESA model offer for your business?
Online Learning & Resource Center
View all the MESA Model content in the Online Learning & Resource Center.